Journal Entry:
Wed Aug 5, 2009, 12:43 AM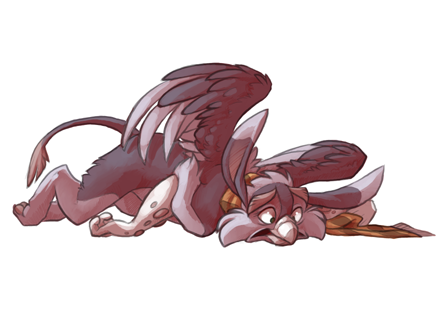 HAY everyone. So remember how I was all excited about getting together in Brisbane soonish? Well I found the perfect opertunity. My uni is having an open day and I think that's a great excuse for anyone in the Brisbane area who wants to to meet up.
Interested in film/animation/games? I assume some of you are.

And if you are looking for a university for next year, come along!
In fact, even if you're not... come anyway, haha.
-----
SO ON SUNDAY 9TH OF AUGUST
If you're interested in coming to Griffith University (Queensland College or Art)'s open day:
I'll be around the South Bank campus of Griffith University doing generally helpful things for the uni from 9 until 2 on Sunday. I have blond hair and I'll be wearing brown pants and a shirt that will, without doubt, remind you of neapolitan ice cream. (It's likely I'll be eating ice cream, too.)
Location:
226 Grey Street
South Bank
Time:
Sunday 9th August 9am - 2pm
I'll most likely be:
On level 5 (animation/games level) or hanging around the games/animation stand on the grassy area outside the QCAfe.
If you're not interested in coming, but still would like to meet up:
After open day at 2pm I'll be at the lovely
Ship Inn
for after-uni drinks.
Be aware that the Ship Inn is for over 18s.

Location:
On the corner of Sidon St and Stanley St
South Bank
(The pub is pretty much connected to the uni.)
Time:
Sunday 9th August 2pm onwards.
I'll most likely be:
At the long tables at the end of the restaurant.
Art Trades:
Closed.
Commissions:
Open
Requests:
Never unless I offer.
All dollars are in US dollars to avoid confusion.
Sketch (Digital, or traditional if you prefer) - $5
Cleanly Outlined - $10
Flat colour - $15
Shaded, no background - $25
Shaded, simple background - $30
Shaded with scene for background - $40
Extra character 50% off. (Or, one half.)
These prices are a rough guide, and are assuming my usual half realistic/half cartoony style. The more cartoony, the cheaper the price, and the more realistic, the steeper the price.

Basically, if you're confused like I am, just note me.

I have
0
slots open...
1
RonsoStryder
2
Viviane-Sea
3
Key-FeathersMLP
Waiting list (is infinite, I think):
Important:
</b> "Spirit-sai" you were on my waiting list, but I can't get in contact with you. If you have a new account, please feel free to note me and you will get the top spot.
AndyPandykinzz
RyoOhki
bluekillerdonkey
I've gotta get some better ref sheets done. XD Until then, here are some characters I like:
Ayem -
ayem.deviantart.com/art/New-Ay…
Ivoncraft -
ayem.deviantart.com/art/Ivoncr…
Azar (used to be Etch) -
ayem.deviantart.com/art/Etch-B…
ayem.deviantart.com/art/Azar-T…
Hopi -
ayem.deviantart.com/art/Hopi-R…
Work on picture book - not much of a percentage complete. (Now I know why I went into games design and not children's book illustration XD)
Xmas gifts

Watch

Reply

Reply

Sounds like fun! LOL, I've done some similar thing for my University (before I graduated and all). It was always interesting (got free food from it).

Be safe!
Reply

Hehe, it shall be awesome I hope.

It'd be great if I could meet some fellow deviants that day, too.
Reply

Aww, if I lived in Aussieland I would swing by to see you and your nifty sounding school (drinks sounds fun too!). I'm afraid my school and town are probably quite boring and slow compared to Brisbane, but if you ever get the itch to come, I'd be up for finding something to do (New Orleans isn't too far of a drive

).
Reply

Thanks much! If you ever come oevr here, South Bank is a must.

I hope to go to America after I finish uni over here. I'd love to come and visit you in that case.
Reply

I would love to go to LA or San Fransisco. Mmmm... And New York. And New Orleans. Hell, I want to go everywhere.
Reply

Reply